Blake Rummel-Knott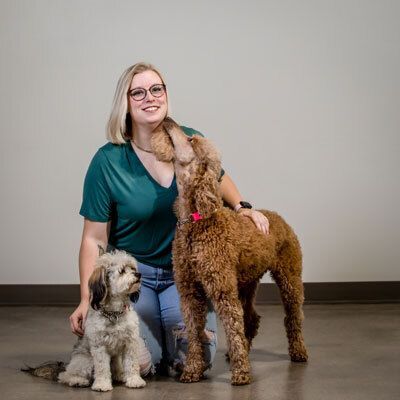 Blake was born and raised in Michigan and moved to Arizona in the summer of 2020. She grew up on a farm and worked with all sorts of animals ranging from cattle to rabbits and everything in between. Her love of animals followed through into her adult career and she started training dogs in 2013. She started in the veterinary field when she moved to Arizona and as much as she loves working in Vet-Med, dog training is where her heart is at.  In the summer of 2022, Blake joined SBF's staff full time as the Adoptions Specialist.
In addition to working at SBF, Blake also volunteers her time to fostering animals in need with local rescues.  You might see a kitten or two (or seven!) around from time to time.
Blake has a full house with 3 cats and 3 dogs as well as the constant flow of the "guest" animals she fosters. In her free time, she is an avid hiker, loves to read, and enjoys tending to her house plants.