In Loving Memory of SPC Frank W. Ball
November 25, 1991- November 16, 2013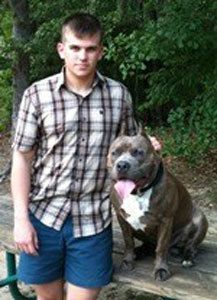 A dog, a motorcycle, online gaming, and his family and friends defined Frank. Known as a quiet, responsible, caring guy who was a master of goofy faces, he thrived in the company of his wife, Chae, sister, Amanda, and parents, Frank and Sharon. Frank is so deeply missed by his amazing friends. They had a bond such that he sought their input for a name for his rescued pup, Bowzer. Bowzer was always there for him, whether it was walks in the park, rides in the truck or watching TV.
Born in Jacksonville, Florida, Army SPC. Frank W. Ball enlisted on Oct 11, 2011. Trained as a Bradley Fighting Vehicle System Maintainer, Frank served in South Korea and then moved to Ft Bliss, Texas. His awards and decorations include: the Army Achievement Medal, the National Defense Service Medal, the Korean Defense Service Medal, the Army Service Ribbon, and the Overseas Service Ribbon. Frank lives on as an organ donor sharing the gift of life with three recipients. We honor and appreciate his dedication and selfless service.
Your tax deductible donation of any amount will help the SPC Frank W. Ball Memorial Sponsorship reach the goal of providing a veteran with a service dog in Frank's memory. The original goal set was $10,000. In July 2015, thanks to the generosity of donors like you, that goal was reached. The Ball family asked to continue this Memorial Sponsorship in honor of their son, so the goal was reset to $15,000.  The second goal was met and the Ball family has generously decided to continue fundraising for Soldier's Best Friend.
We have raised
$23,775.00
of our
$25,000.00
goal.