William and Moe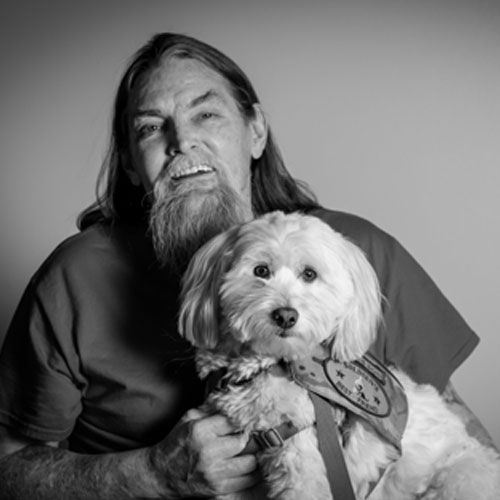 We are more than happy to address our total transformation since you brought Moe into our lives.  He has brought more joy, happiness & motivation than we could have imagined. My husband, as you know, is a Viet Nam Veteran and suffers from a multitude of ailments, most recently, open heart surgery which has affected his lungs & kidneys adversely.  Oh, he also broke his knee in two places and was incapacitated nearly three (3) months! Moe was here for Billy every day, bringing comfort and support-waking him every morning to take his medication (Billy is also a liver transplant recipient), and they worked together on Moe's lessons while Bill was in a wheelchair.
Honestly, I do not think we could have made it through this year without Moe and Jamie Barilla (Billy and Moe's trainer) with as much joy and hope for better days ahead. Moe encourages Bill to get out of bed and motivates him to be his best day after day! 
When I first contacted Soldier's Best Friend I expressed my concern about driving down to their offices and was assured that there was a trainer closer to us, right here in Prescott.  Training close to home makes all the difference. We are ever so grateful for this wonderful experience and opportunity.
Written by Theresa, William's wife