Jim and Jake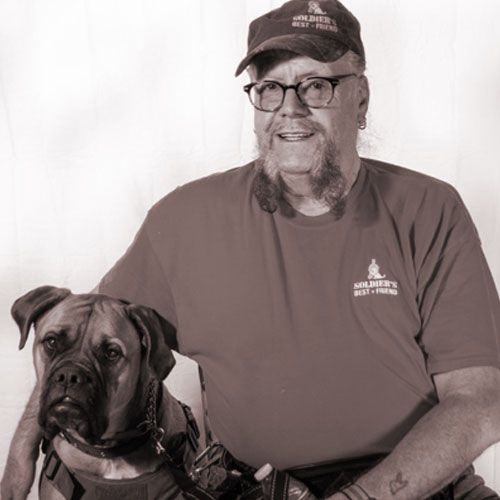 This story starts with my PTSD doctor in Tucson. He has been after me for 15 years or more to get another dog. Well I was not going through the heartbreak in putting another best friend down due to cancer. That being said as years passed I found out after my divorce that I was staying home in my bedroom with the shades closed and I ate in my bedroom and stayed there all day and night. If I needed anything I went out shopping late at night when most all of the crazies were home for the evening. I knew if someone started something stupid I would of popped him or her, instead of leaving the problem alone. I was a man with a short fuse. No matter where I go trouble seems to follow me.
For months I have been searching for a dog on the Internet and a Bullmastiff popped out at me. After a long research I found my dog of my dreams that I would love growing old with. I asked the owner if he could send me pictures of the four males he had left and the one I chose was the white chest. So this place that raises these types of dogs out in Missouri I contacted and he gave me a deal on Jake because I told him he was going to be my service dog. The next thing I knew Jake was on his way at 12 weeks old to his new home.
I started training Jake at 12 weeks with the basic stuff like sit, stay, and come, down. I took Jake everywhere with me. I carried him with his front feet over my shoulder, like a 20lb bag of potatoes. Everyone in my wife's store had to see Jake every time I went there he was the store mascot. Then my wife had heard of Solder's Best Friend and she told me about it so the next step was to go on there sight and fill out the application and wait to see if I met all of there standards. After a few weeks I got a phone call from Jim in the Phoenix office and said that I met there requirements and he congratulated me and welcomed me to the Solders Best Friend Program and I would be getting a call from my trainer soon.       
Well Jake and I started school in September 2018. Boy was I in for a new awaking. From then on I could not take Jake to my wife's store and any other store without Leslie permission. Boy this was going to be a long 8 months or more for Jake and me. I had to work Jake every day on our assignments for at least 1 hour a day but it worked out to be 1 hour and a half if Jakes not responding to what I needed him to do. I found out very early that the bull he had in him, like a hard head that was Jake. I got nose to nose with him several times and said to him that he was going to do what I wanted him to do and not just what Jake wanted to do. I was getting frustrated with him because when we were out with Leslie she said that he's not doing what I asked you to do with him and all along I was doing it wrong and not Jake. I almost quit a few times because I did not want to fail Jake because I knew he could do it. Well I'm no quitter and I was going to do what ever I had to do to finish the class with Jake and being proud of him. Well we passed his entire test that is required by Solder's Best Friend. Wow, now the final test in Tucson at the Mall June 28, 2019 Jim from the Phoenix office came down to give me and Jake our final test, we passed. After all the time I put in with Jake and Leslie I knew we would pass. Thank you Jim.
I'm glad the entire tests are over because it had caused me a lot of stress to work Jake. I can tell you that from the first day Jake and I started training I saw that he was changing every day as I worked him, or did he work me. LOL. He is a completely different dog since last September. I know while I was working Jake I was not thinking about my PTSD because my mind was on Jake. I know that when my PTSD kicked in Jake would get up and nudge me and I would hug him while crying. I'm crying now but they are happy tears because the love and bond I have for Jake. Now I can feel free and go out during the day and do shopping or just to work Jake. I learned a lot from Jake and I see he has done the same. This training is done by the veteran and not by the trainer, so if you don't have the time to train you service dog don't sign up. I have learned a lot from this training and I'll be out every day working Jake.
I would like thanking Solder's Best Friend in Phoenix for paying for my training. And I would like to thank Leslie of SBF Sierra Vista for all her hard work helping me to get to the finish line. I could not have done this alone. If there is something I can do to help SBF give me a call and if I can do it I'll be there. Thank you all again.