Denise and Sargent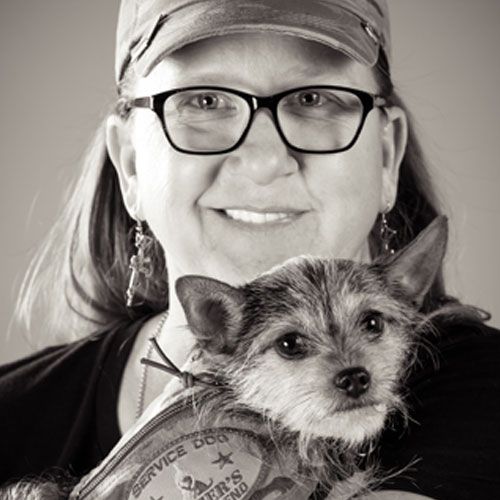 The crew at Soldier's Best Friend are more than what I expected.
After my deployment and being medically retired from the military, I dealt with things like many of the military do. It wasn't until we had to put one of our K-9's down that I realized that I needed a little more help.
I rescued a 6 month old puppy from an animal shelter not expecting more than just a new friend, boy, was I wrong. About that same time a friend of mine told me about Soldier's Best Friend and we got involved.
Entering this program with PTSD, TBI, Extreme Anxiety and a cervical spine injury, I was skeptical that there was anything these people could do for me. I mean, I have been dealing with the VA for some years now and they haven't done diddly squat.
I was emotionally numb; I avoided people, places and activities. My anger, fear, feeling of detachment, hypervigilance and self-destructive behavior was controlling everything and sleeping was out of the question.
I still feel uneasy, jumpy and irritated at times but the intensity has decreased immensely.
SBF has helped bring me out of a shell, with the love and companionship of my little man is better than any treatment at the VA. I sleep much better knowing my buddy has my back. I do not recall the last unruly nightmare I had.
SBF is not just about me. It is about the two of us, giving us the tools to learn and function with the new norm. I have more independence since entering SBF. My emotions have peered out more often instead of keeping it all inside. SBF has helped me step out of my comfort zone and given me courage with my little man Sargent to initiate new situations.
The crew at Soldier's Best Friend are my friends.
God has blessed me and my family with these amazing group of Soldier's Friends.