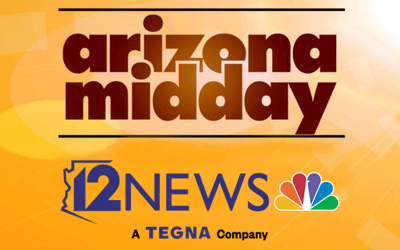 Watch for us on the Channel 12 Arizona Midday show on Wednesday, May 15, at 1:00 pm Arizona time. Channel 12 is spotlighting Luke Air Force Base during the two weeks leading up to Memorial Day. Soldier's Best Friend has the opportunity to raise public awareness as part of this campaign. SBF President, Jill Nelson, and a SBF veteran/dog team, will be interviewed during the May 15 Arizona Midday show. If you miss it, the interview can be found afterward on the Arizona Midday website at https://www.12news.com/arizona-midday.
If you live in the Channel 12 broadcast area, you may see short commercials about SBF from May 14-24. Channel 12 filmed Jill, and some of our graduate teams in action, to put together this commercial. Our goal is to raise awareness in Arizona about our life-changing program, so we can help more veterans and rescue more Arizona homeless dogs.
Those of you on Facebook, may see a Facebook ad about us too. We hope these efforts through Channel 12's Memorial Day campaign will have an impact. We have the ability to help more combat veterans and Arizona homeless dogs. If you, or someone you know, is a combat veteran with PTSD and/or Traumatic Brain Injury, check out more of our website. A simple website form to request an application can be found here. If you complete the request form, our application will be on its way to your email inbox right away. If you have questions, send us a Contact Us email or call our headquarters. Make sure you mention you saw us on Channel 12, so we know if our efforts were successful.