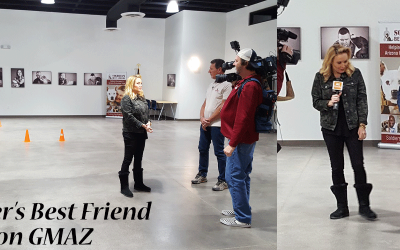 Did you see us on Good Morning Arizona (local channels 3 and 5) on Wednesday, February 20? Anchor Jaime Cerreta and her cameraman came to our campus in the wee hours to do multiple live segments during the show. She interviewed SBF board member, Marty Park, and one of our graduate teams Dave and Caleb. This was an amazing opportunity to spotlight the important work we do in the community to help combat veterans and Arizona homeless dogs.
Marty shared information about our mission and how our service/therapeutic companion dog training program makes an impact. Dave and Caleb were model representatives of our program. They graduated in 2015 and have stayed engaged with SBF, representing us on many occasions. Dave shared his story, and how life used to be for him compared to now. He says going through the program and having Caleb as his service dog has changed his life for the better. Dave has gone from never leaving his house to being actively involved in multiple veteran groups, and community events.
Good Morning Arizona shared one of the live segments with us. If you missed it, you can watch it now.