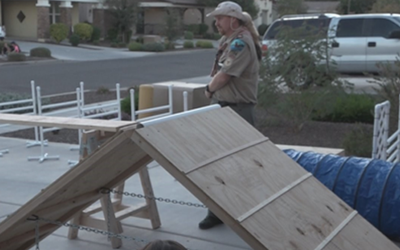 Source: 12News website
With persistence, dedication and love, Hayden Larkin, a Boy Scout, has created one of the first dog agility courses in his troop.
Hayden, from Surprise, is 14 years old and is currently a Life Scout with Troop 194.
He is the brains behind the invention of the dog agility course that will help train rescued dogs for veterans suffering from Post-Traumatic Stress Disorder.
"The whole reason for the dog agility course and how that came about was, I initially wanted to go to Alaska and help build dog shelters," said Hayden.
He decided to put his creative energy and his heart into giving back to a local organization called a Soldier's Best Friend.
"My mother found a mutual friend between herself and an organization called a Soldier's Best Friend," said Hayden. "They said they would like an agility course to be made and I said, 'I can do that.'"
Hayden researched other agility courses and gave himself the challenge to create one.
"A-frames, dog walks, tunnels, wing jumps, weave pools — I looked it up all at home," said Hayden. "I bet if I complied these, I could turn it into a course."
So far, Hayden has already spent over 100 community service hours just on this course alone.
"And that doesn't include the work still left to be done and the work that will be continued on," said Chad Larkin, Hayden's father and the assistant scout master for Troop 194. "Boy Scouts gives back hundreds and thousands of hours every year."
We decided to test the agility course with one of Hayden's pups — it didn't go so well.
But the good news is that with more training and patience, other rescued pups will be able to change the life of a veteran.
"This organization is perfect. It's everything I would make if I could make any organization," said Hayden.
Hayden's course is all made from donations. He even took a chance at tweeting President Donald Trump to see if maybe he would want to donate towards his course — no response.
Hayden's not stopping here — he plans on extending his course. He will deliver his course to the organization at the end of December.
"I'm pretty proud to see that it is almost done, that it is officially created, that it's here," said Hayden.