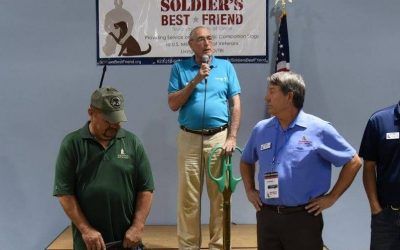 Soldier's Best Friend celebrated the Grand Opening of the new Training Campus on November 3, 2016. Fox 10 Phoenix interviewed Founder and Board President John Burnham, DVM about the important of the new Training Campus and the positive impact it will make.
'Soldier's Best Friend' helps Valley veterans fight PTSD
By: FOX 10 Staff
Posted:Nov 03 2016 12:37PM MST
Updated:Nov 03 2016 09:54PM MST
PHOENIX (KSAZ) –
A Valley non-profit has trained hundreds of service dogs for vets with PTSD.
And they've done it without a facility that they could call their own.
But on Thursday it all changed.
The bond between a veteran and the furry friends beside them can be special and life-changing.
"Anywhere from tear-jerking to literally taking your breath away," John Brunham said.
Five-and-a-half-years-ago, John was inspired to being "Soldier's Best Friend." As a veterinarian and now the non-profit's president, he's seen how a service dog can help in the battle against PTSD.
'Soldier's Best Friend' helps Valley veterans fight PTSD
"We hear from veterans directly, we hear from spouses and significant others, we hear from moms and dads; the changes that they've seen in themselves or in their loved ones and how they've begun to adjust to civilian life," he said.
The organization spends six-to-nine months training the dogs to perform tasks like fetching medication or simply staying by a veteran's side. Until today, all of that training has been in shared spaces around the Valley.