As of June 20 of this year, 185 veteran and dog teams have successfully graduated the SBF program. Each of these teams have witnessed first-hand the undeniable advantages of having a "best friend" and battle buddy. While we are extremely proud of their dedication and commitment to the program and each other, we are in complete awe with what these teams accomplish together in their day-to-day lives after graduation.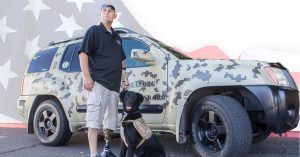 A true testament to the SBF program and mission is seen in the graduate team of David and Caleb. Like many veterans who have witnessed the harsh outcomes of war, David was living with PTSD, making it difficult for him to readjust to civilian life once he returned home. The obstacles David was facing made seeing the light at the end of the tunnel nearly impossible which prompted his decision to search for help. He reached out to SBF with the hopes of regaining control of his life and that is when he was introduced to Caleb. The two trained together to establish the trust, love, protection, and companionship they both lacked prior to meeting each other. Graduation came in August 2015 and things continue to look up for the dynamic duo.
LivAbility Magazine captured a piece of David's life after Soldier's Best Friend. He is involved in an assortment of community outreaches which includes providing resources to other veterans and their families and volunteering at homeless shelters for veterans and troubled youth. "I want to do as much as I personally can to give back because so much was given back to me". We are beyond proud of David for not stopping at improving his own life but continuing to positively impact the lives of the veterans and families he comes in contact with.
Click here to read the full article on David and Caleb, pages 58-59, in LivAbility Magazine.