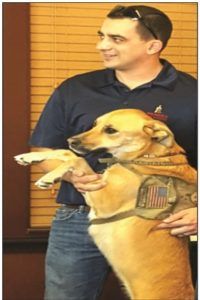 Soldier's Best Friend was honored to join the Saguaro Chapter of the Sons of the American Revolution as they hosted one of their monthly meetings. While there, Damian, who is our Director of Veteran Services, and his best friend Bella represented SBF and the extensive training veteran and dog teams go through while in our program. SBF is an organization dedicated to pairing, training and serving U.S. active duty and military veterans living with combat-related PTSD and/or Traumatic Brain Injuries (TBI) with Service or Therapeutic Companion Dogs. Most dogs in our program, like Bella, come from shelters all across Arizona which helps us maintain our mission of touching and saving two lives at once.
See below for the full transcript of the article or click on the picture above to visit the source.
Group learns about soldier dogs
Animals help veterans cope
By Stan Hughes
SPECIAL TO INDEPENDENT NEWSMEDIA
March 22, 2017  |  Page A23
Sons of the Revolution members learned how important dogs are to helping American veterans returning from overseas.
Damian King and his dog, Bella, from Soldiers' Best Friend, demonstrated at a meeting of the Sons of the American Revolution the training each went through to help each other. Mr. King is Soldier's Best Friend veterans programs director.
The mission of Soldier's Best Friend is to provide U.S. military veterans living with combat-related Post Traumatic Stress Disorder or Traumatic Brain Injury with service or therapeutic companion dogs. Most of the dogs are rescued from local shelters. The veteran and dog train together to build a trusting relationship that saves two lives at once.
The Sons of the American Revolution is the leading male lineage society that perpetuates the ideals of the War for Independence. Those who have an ancestor who supported the cause of American Independence during the years 1774– 1783 are invited to join the SAR.
The Saguaro Chapter is an active group serving all West Valley cities and communities. The Saguaro Chapter meets for breakfast the fourth Saturday each month from September to May at the Golden Corral, 17674 N. Litchfield Road, Surprise. Call Jan Huber, registrar, at 623-975-4805.
Editor's Note: Mr. Hughes is a Peoria resident and member of the Saguaro Chpater of SAR.