On Thursday, June 6, 2019, we mark the 75th Anniversary of D-Day and the Battle of Normandy. The men and women who fought in WWII are now in their late 80's and 90's. Of the 16 million Americans who served in WWII, it was estimated by the U.S. Department of Veterans Affairs that 496,777 were still alive in 2018. Of those, a little over 13,000 reside in Arizona.
General Dwight D. Eisenhower sent troops into Operation Overlord, code-named D-Day, on June 6, 1944. It was the largest amphibious military operation in history. Over 155,000 Allied forces (American, British and Canadian) invaded northern France, changing the course of WWII. It was a critical turning point in the war.
The 75th anniversary celebration of this momentous military effort is taking place in multiple countries. We commemorate the heroism and bravery of the men and women who changed history that day. It is important to remember them, as well as remember history's lessons. Many of the people and relics from 75 years ago are gone; the results of their heroism are not.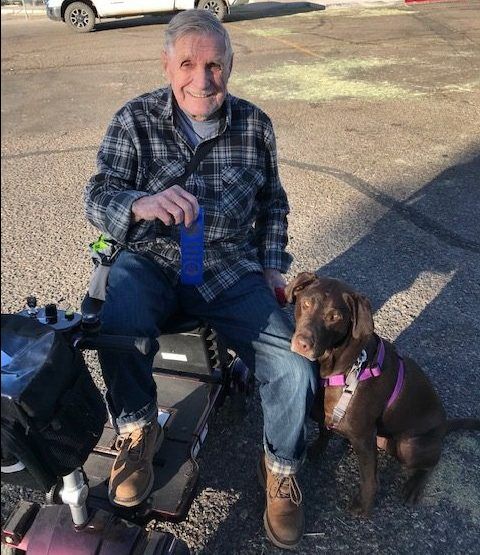 At Soldier's Best Friend, we not only celebrate this important anniversary, we are proud to share that we currently have a WWII veteran in our service dog training program. In fact, Elmer served in the Army during three separate conflicts: WWII, Korea then Vietnam. He and his dog, Comadre, are working together as a team in Sierra Vista to master their service dog skills. Currently, they are about halfway through their training program. Elmer and his wife attended the April graduation for other area teams, where he reported he and his rescued dog, Comadre, were doing very well in their training. We hope Comadre will continue to be of great help to Elmer and improve his quality of life. (photo: Elmer and Comadre passed their Canine Good Citizen test in February.)
Anyone interested in reading some history about D-Day, can find information, photos and video on the History channel website. https://www.history.com/this-day-in-history/d-day