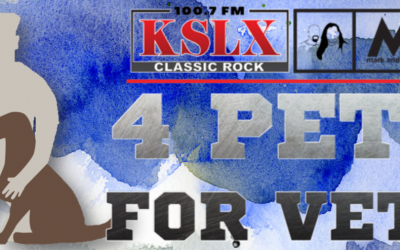 During the third week of June, in tandem with PTSD Awareness Month, 100.7 KSLX radio hosted an on-air fundraiser to benefit the veterans and Arizona homeless dogs coming into our service/companion dog training program. Setting their original goal at $20,000 seemed like a reach, but they hoped their listening audience would rally and support the cause. The KSLX team pulled out all the stops with their social media, on-air promos throughout the day, and messages all week during the morning commute show by Mark and NeaderPaul. They put together a heart-tugging montage of sound bites from several of our SBF graduates talking about how their lives have changed for the better since having their service dog.
Not only did the KSLX audience come through, they responded with great enthusiasm. At one point on the final day of the campaign, donations were coming into the SBF website so fast the donors crashed our server. Thankfully, our website designer was monitoring it closely and fixed it in less than two minutes. The final result of the campaign was astounding, with nearly $55,000 raised to support veteran/dog teams.
All of us at Soldier's Best Friend send a special 'thank you' to everyone who generously contributed to Mark & NeanderPaul's "4 Pets For Vets" campaign on 100.7 KSLX radio. We are so humbled by the tremendous outpouring of community support for the veterans and Arizona homeless dogs helped by our service/companion animal training program. Your generosity will directly impact incoming veteran/dog teams and help change their lives.
Mark and NeaderPaul shared this message, "It's difficult to express how grateful we are to our listeners and clients who contributed to help combat veterans and shelter dogs through Soldier's Best Friend. We can't wait to do it again!" -Mark & NeanderPaul, 100.7 KSLX
In the words of a few of our graduates:
"I don't feel alone anymore because she is always there. She relieved my symptoms in crowds and she helps tremendously when a debilitating anxiety attack stops me in my tracks."
"He has saved me from my own destruction and continues to do so. Teaching me how to be able to function like a civilian in a world unknown to me."
From all of us at Soldier's Best Friend, thank you!