The saying, "It takes a village" is definitely true for Soldier's Best Friend (SBF). All of you are an important part of our SBF community, and we thank you for everything you do to support our veterans and their canine partners. As we celebrate the end of 2017 and begin a new year, we honor the many segments of our SBF community: veteran/dog teams, volunteers, fosters, shelter/rescue partners, donors, sponsors, strategic partners and supporters, Eagle Scouts, media connections, neighbors, board members, trainers and staff. Each and every one of you have had a vital part in helping Soldier's Best Friend grow and thrive.
So far this year, 46 teams have graduated the program. Because of your support, whether it be financial or through your hard work, 195 veteran/dog teams have successfully graduated from our service/therapeutic companion dog training program since our beginning in 2011. With one more group graduating mid-December, we are on track to reach the next milestone of 200 graduate teams by the end of this year. These success stories are only possible because of you and our hard working, dedicated veteran/dog teams.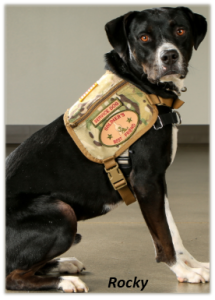 Thank you to our shelter/rescue partners who help identify dogs that may be good candidates for our training program, allowing us to adopt and place them into loving homes. Working side by side with their veteran partner, these dogs have a chance for a new life in a loving home and a very important job. We truly appreciate your commitment and partnership.
Thank you to our fosters who bring newly adopted dogs into their homes and care for them. Your work to help these dogs transition and prepare them to be paired with their veteran partner is crucial to the success of the veteran/dog team. It takes special people who are able to welcome one of these amazing animals into their home, love and care for it, and then let the dog go so he or she can become part of a forever family. Thank goodness there are incredible people like you who can.
Thank you to our donors, sponsors, event participants and grant makers who have consistently supported our veteran/dog teams financially. We wouldn't be able to provide this life-changing program at no cost to our veterans without your support. We can't thank you enough  for the generous gifts you entrust to us that provide the training, equipment, veterinary care and support these teams need to be successful.
Thank you to our hard working volunteers, Eagle Scouts, strategic partners and others who give of their time, talent, tangible gifts and connections to help take care of our campus, support us at events and all the millions of tasks we ask of you to help us get things done. You are all generous and amazing people.
Thank you to our friends in the media who tell our story to help spread the word about Soldier's Best Friend and the work we do to help combat veterans and Arizona homeless dogs. It is vitally important we increase community awareness. Thank you for helping us do that.
Thank you to our board members who use their experience and leadership to guide Soldier's Best Friend into the future. Your dedication to making informed, thoughtful decisions is critical to the health of our nonprofit.
Thank you to our trainers and staff who tirelessly commit themselves to the work of training our veteran/dog teams and making Soldier's Best Friend the successful nonprofit it is today. You are the boots on the ground making sure we complete our mission.
And of course, thank you to our veterans. You are the reason Soldier's Best Friend exists. Thank you for your service. Thank you for the sacrifices you and your families made to protect our freedom. Thank you for your commitment to training; for sticking with it through the challenges to achieve the final goal of having a trained service dog. Everyone in our SBF community supports you because it is our hope that having your trained service dog by your side makes it easier for you to live your life now that you are home.
Our program can have a meaningful impact on many lives: those of our returning veterans, their families and also the homeless dogs who become their canine partners. A heartfelt thank you to everyone who supports our mission. Together, we are a community that works to help veterans and Arizona homeless dogs. Together, we truly are touching two lives at once.