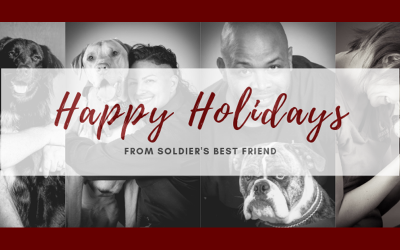 Wishing you and yours a safe and Happy Holiday!
As we near the end of 2018, we think back on all the wonderful things this year brought to Soldier's Best Friend. Through the incredible support of many of you, many teams have successfully completed their training. To date, 258 veteran/dog teams have graduated. That means 516 lives forever changed. Many foundations, civic groups, American Legions, other veteran groups, businesses, families and individuals contributed gifts to make it possible to offer this life-changing program at no cost to the veterans. Thank you, thank you, thank you!
We continue to utilize our beautiful campus in Peoria, AZ. This year, one of our graduates in Sierra Vista gifted SBF building space for training. Now our teams in the southern part of Arizona have dedicated space, giving them the ability to train with fewer distractions. We continue to train in borrowed spaces in our other training areas including, East Valley Phoenix, Tucson, Prescott and Flagstaff.
Our annual Sporting Clay event and Golf Tournament were both successful this year, raising funds to support teams in our program. Thanks to all the participants, sponsors, volunteers and other supporters who had a part in this success. We look forward to hosting both of these events in 2019 and hope you will join us.
There are many more wonderful things that came our way this year and, if you were a part of it, we thank you. We recognize how fortunate we are to have such dedicated volunteers, donors, trainers, sponsors and supporters. You are critical to the success story. Whether you know if or not, you are making a lasting impact in many lives. So during this holiday season of celebration, we celebrate you, and wish you all the best for a happy holiday.